MEET A FEW OF OUR SHORT, HELPFUL BOOK AUTHORS
Bite Sized Books has worked with business owners, entrepreneurs, and corporate leaders from around the world. From Canada to Australia and from Switzerland to Arizona, our authors are men and women, who are looking to differentiate themselves and their businesses from their competition.
Let me introduce you to a few of them (and if you prefer to read the shook we created, click on this image):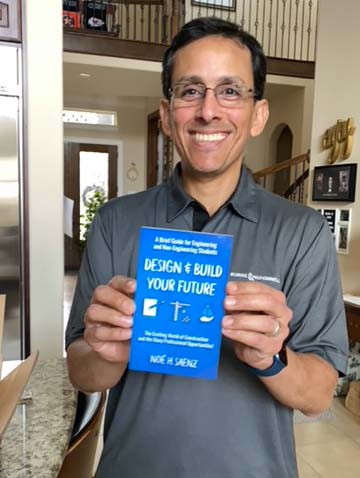 Working with Mike Capuzzi was a game-changer for me. I have been thinking of writing a book for a long time, but I struggled to find the right format and the right approach to make it attractive for my audience.
When I found Mike's shook format, I knew it was the right format for me. And after talking with him, I knew he was the right coach for me.
Now I am happy to have my book in my hands and excited to start promoting it to my audience!
Thank you, Mike, for your coaching and your evident genuine interest in helping people to publish great books.
—Noe' H. Saenz
Being a former NFL player who has played in and won two Super Bowls, I appreciate high-quality team members who have the work ethic, know-how, and attention-to-detail to achieve the desired goal.
Having worked with a number of "marketing experts" over the years, I can tell you, with zero hesitation, that Mike Capuzzi stands above all of them when it comes to his expertise, coaching, and ability to get things done efficiently.
I went through Mike's publishing process and was able to get my first shook done in a matter of three months. Two-Minute Warning: Winning the Game of Male Hair Loss, not only features my former teammate Joe Montana, but it also perfectly articulates how I help men regain their confidence, appearance, and hair. Dan Kennedy called my book (and the package Mike designed around it), "fantastic."
You can find no better teammate, coach, and publisher for your book, than Mike Capuzzi.
—John Frank, M.D. & 2X Super Bowl Champion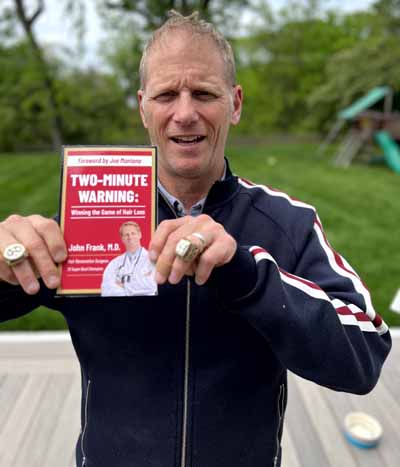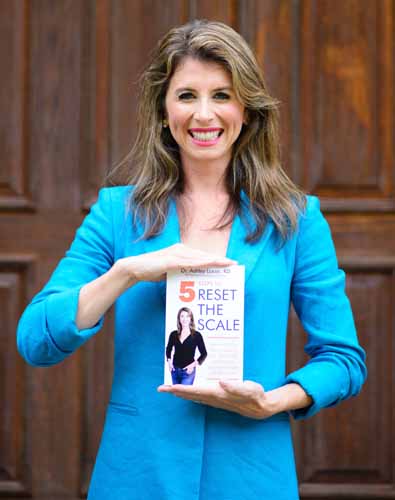 I was introduced to Mike Capuzzi, and his short, helpful book concept, by a collegue of mine. I was intrigued and set up an initial call with Mike, which was super helpful. But I decided to check out a few other publishers and after about a month of research I decided that Mike was the right book coach and publisher for my first book effort.
His program was perfect for a busy business owner like me and I really appreciated being able to brainstorm ideas during our Zoom calls. I'm really grateful for Mike's support and guidance in not only writing my shook but also launching it on Amazon, where we were able to become an Amazon #1 Best Seller for both the Kindle and paperback versions in multiple health-oriented categories. In the first two weeks, with Mike's help, I was able to sell over 3,000 copies of my book!
Mike was there with me every step of the way and made the process as easy as possible. He answered every question I had (and I ask a lot of questions!) and always guided me in the right direction. He has great knowledge and I couldn't have done it without him. Thanks Mike!
—Ashley Lucas, PhD.
When members of PodMatch (the software system I created to match podcast guests with podcast hosts) approached me about writing books to help new people entering the podcasting industry understand how to succeed on either side of the mic (guests and hosts), I immediately said. "I'm honored that a group of PodMatch members would even want to write something about what we've built together, but I don't know the first thing about books."
That's when Mike Capuzzi stepped in! Mike and Bite-Sized Books ran the entire project. Everything from getting the 30+ authors together to making sure the launch had a strategy.
Because I worked with Mike, BOTH books became Amazon bestsellers, and ended up helping a lot of our members leverage PodMatch better. It was an all-around positive experience, and it excites me for my next book project with Mike!
—Alex Sanfilippo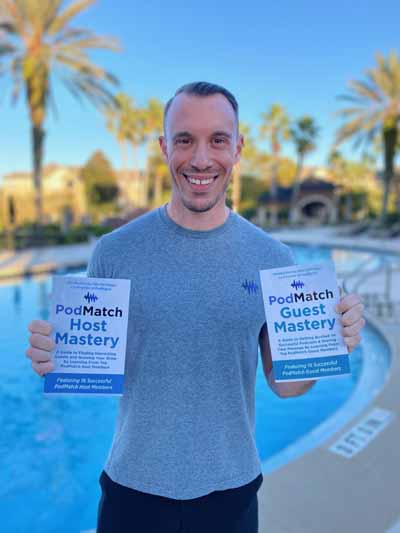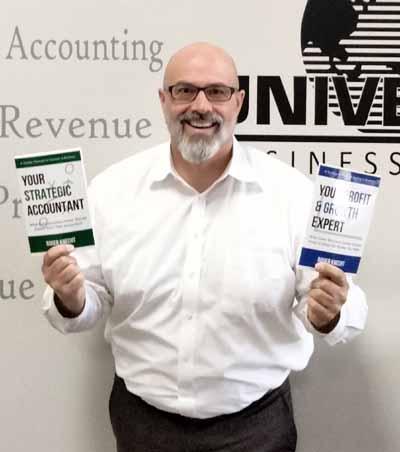 Working with Mike was very inspiring. In the process, I was able to find the words to create not only one but two books. I appreciated the turnkey process and follow-up to create what I only hoped I could do. Now I'm a published author with my message in print. After years of processing it over and over in my mind, I'm happy to have my thoughts in writing for everyone to read and apply in their business.
—Roger Knecht
Without Mike, this book would have never crossed the finish line. Thanks for the process and encouragement I needed to simplify my project and get it done!
—Allen Edwards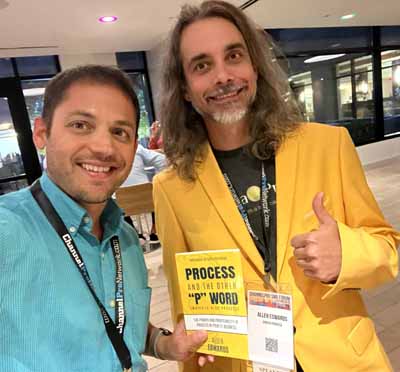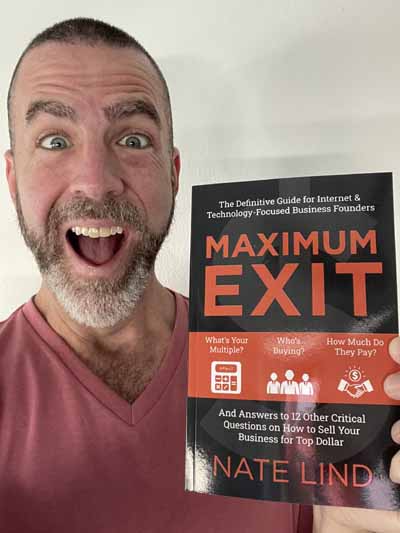 I read Mike's book in 2021 and knew immediately I needed a shook. I wanted a singular piece that demonstrated my authority, gave me credibility and focused my target audience towards booking a call with me and his formula was perfect.
I read his shook twice, put pen to paper (literally, I did exactly as he said and by hand wrote out my book) over a week's time. Then I called him, hired him and worked through the edits with him. From starting to write my book to being published on Amazon was 105 days. I could not have done it without Mike!
I'd recommend any expert or authority seeking a content piece with a strong call to action to contact you consider a shook and DEFINATELY engage Mike so you don't screw it up! I'm glad I did, THANKS MIKE!
—Nate Lind
I have written a handful of consumer guides and books and hands down, the BiteSizedBook concept and process is the best. The book looks fantastic, feels amazing and has had an impact already. We just onboarded a new employee. Part of the process is to have new hires read our books. She was amazed at our shook, how clearly it conveyed information and how helpful it was to read (from an employee who has worked in other Law Firms before ours!). I cannot wait to use the shook to attract clients and educate the public! Thank you Mike and team!
—Brian Mittman, Esq.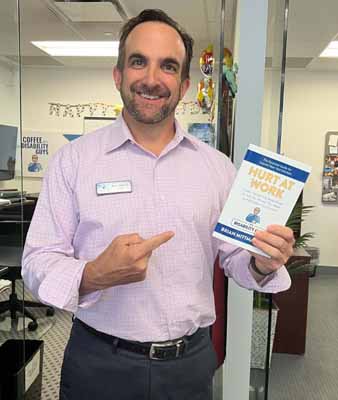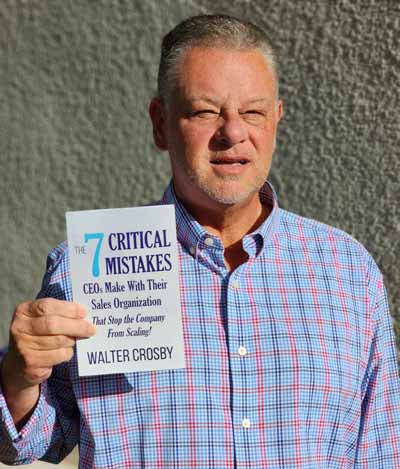 The idea of writing a book, even a short helpful book, was daunting. Mike's process and experienced guidance allowed me to get my thoughts on to paper faster and with more clarity than I imagined. If you have an expertise and have contemplated a book, call Mike Capuzzi and Bite Sized Books.
—Walter Crosby
I had the pleasure of working with Mike Capuzzi to publish my latest book, Money Secrets, and I couldn't be more pleased with the results. Mike's expertise and guidance were invaluable in navigating the complex publishing industry, and he went above and beyond to help me achieve my publishing goals. Throughout the entire process, Mike was responsive, communicative, and always willing to answer any questions I had. He took the time to understand my vision for the book and helped me craft it into a finished product that exceeded my expectations.
His attention to detail and commitment to excellence were evident in every aspect of the book, from the cover design to the formatting to the final proofreading. Mike helped me and I highly recommend him to help you too.
—Jeff Arnold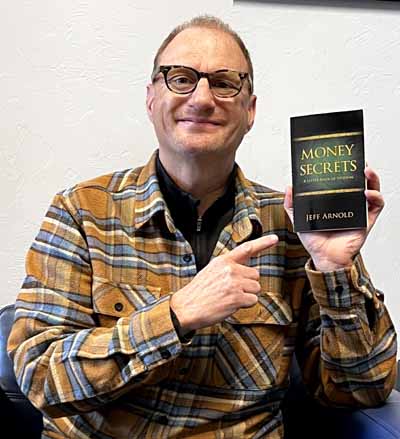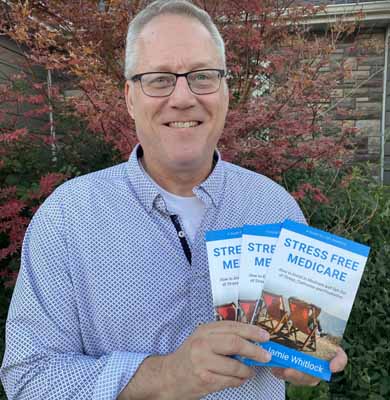 I am so happy to send you this picture of me with my new book, Stress Free Medicare. This has been a labor of love that has been in the planning stages for a couple of years, but really came to fruition because of your guidance, encouragement and expertise.
The book looks fantastic, and we have already had a very warm reception from people online. I am looking forward to giving it out to those that can be helped by it and am almost ready to get book #2 going! Thanks for everything.
—Jamie Whitlock
Mike Capuzzi was such a huge part of my latest book, Solar in San Diego, in so many ways I hardly know where to start.
I'm a retired dentist and definitely not a professional writer.  Mike earned his money on this one for sure.  He's outgoing and lots of fun to talk with.  Solar indicates that the book stresses solar but in reality, my passion is helping the environment which includes solar, hydroelectric and wind power.
I spent a lot of time, often in the middle of the night, writing notes to myself "ask Mike this, ask Mike that".  Mike always helped me navigate the process with good humor and wonderful insights.
What should have taken only about two months, because of tremendous detail and research needed, ended up taking six months.
To top it off, I did not want to have two separate websites, one for my first book about gardening and a second one for my new book on solar and sustainable energy.  Mike showed me how to combine both books on one website and also on Amazon.
He has an amazing knack for originality and simplicity.  I can't thank him enough for all of his help.
—Jon Cunningham, DDS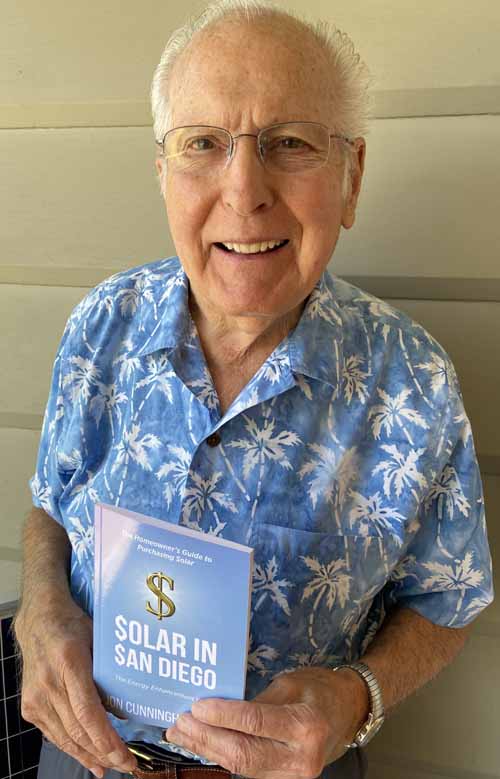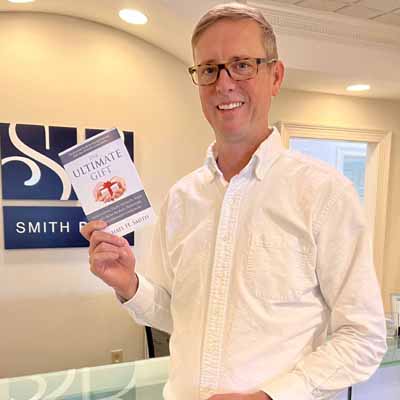 Working with Mike has been fantastic. His structured approach to getting things done really worked for me.
I'd wanted to write a book for years, but just never could get started on it. With Mike's tried and true process, he acted as my accountability partner and within one month, I had the book finished.
I'm looking forward to deploying the book in our marketing to help us attract and retain the perfect fit estate planning clients for our firm. Thank you, Mike!
—Michael H. Smith, Esq.
I've been a Main Street business owner since 2015 and struggled with generating quality leads who didn't need to be sold upon arrival. Working with Mike to create my first short, helpful book (shook) has impacted the local community I serve overnight.
Mike's writing process gave me the framework to take the expertise I have behind closed doors and share it in a simple and easy to understand way that is attracting more of the ideal: pre-sold prospects. We have increased our lead flow from 5 per month with no book, to over 60 per month who are requesting the book.
And the best part is, over 80% of book readers are scheduling in-person sessions with a 100% close rate. Prospects are now flooding our phone, all ready-to-enroll, renew with us, and refer their friends! Write a shook with Mike and you'll never feel like you have sell again.
—Andrew Hibbard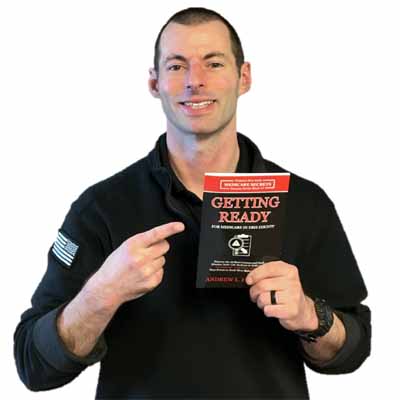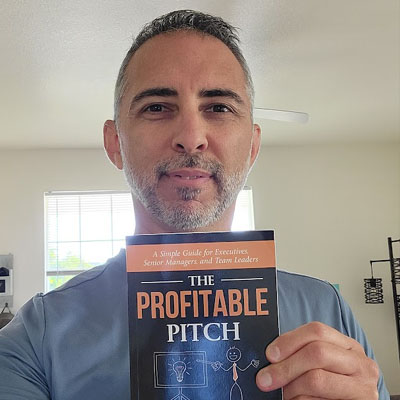 When I reached the point of taking action to author my book, The Profitable Pitch, I had one main obstacle in my way: Who can help me create this book? I knew I could write it by myself and self-publish it. What I needed was help staying focused, ways to bounce thoughts off someone, and help with all the technical stuff that I didn't want to spend hundreds of hours trying to become an expert at.
Let me tell you what I LIKED the most about working with Mike. He was the coach and expert I got to work with! You are going to get his coaching, his expertise, and his guidance. I can't tell you how sick and tired I was of reading expert's books, reading their sales messages on their websites, watching their videos, and being told I would NEVER get to speak with them. Mike gives you a personal connection. This is RARE in this world of "guru-driven" business.
I will hire Mike again to help me with my next book. This is only the beginning of an expedition worth traveling together. If you are still on the fence about who to get help from, there isn't anyone else I would recommend.
—Jason Froehlich
Writing a book was a goal of mine for many years. I knew I could, but I regularly lost focus. I ordered Mike's The 100-Page Book on a whim and wanted to learn more. I started listening to Mike's podcast and eventually scheduled a consultation.
Mike gave me the tools to write a reader-centric book that will benefit my practice, but more importantly, my readers. After I finished writing the book, Mike brought it to life. He and his team helped me with the design and layout, which I am proud to share.
The book reflects my personality and quality of work. I encourage anyone interested in writing a short helpful book to work with Mike Capuzzi.
—Nick Guinn, Esq.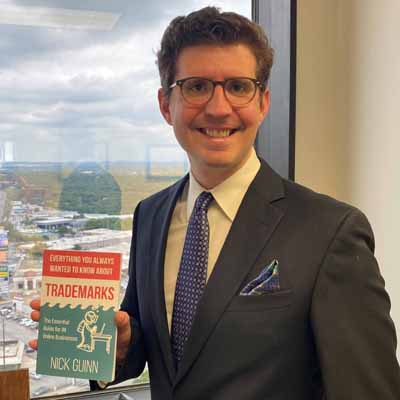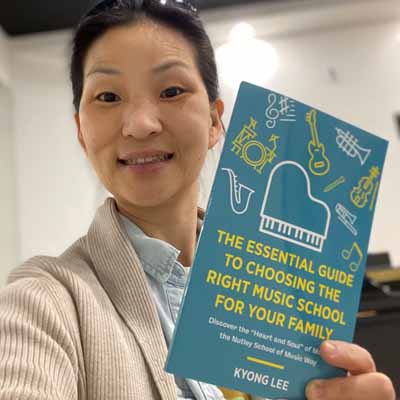 Writing my first book with Mike's help was one of the best experiences of my life. Mike knew exactly what I needed to get things moving and get me to the finish line.
Thank you for all your support and guidance! The day my books first arrived, I handed one to a prospect and got them signed up right away! Shooks really work!
—Kyong Lee
What I loved about Mike Capuzzi straight out of the gate was that he practices exactly what he preaches. I first found Mike by purchasing his own "shook and after reading it cover to cover in a single sitting (something I haven't done in years) not only was I sold on the concept and knew I wanted to work with him, I also immediately knew that I wanted my readers and potential clients to have the same exact experience through reading my own shook. I wasn't someone who already had a book 'in the works' so Mike helped me start from a blank page and guided me on the full journey to published author.
My shook isn't even available to the public yet and already has resulted in a new high ticket client for my business as well as a lucrative licensing deal just from sending out a few advance copies. Those deals are already worth twice Mike's fee so the return on investment is already huge. Who know's what's going to happen next… I hope my business is ready to handle my Shook being out there in the public domain, exciting times ahead! Thanks Mike.
—Gary White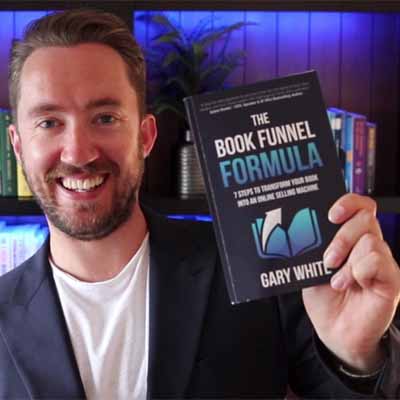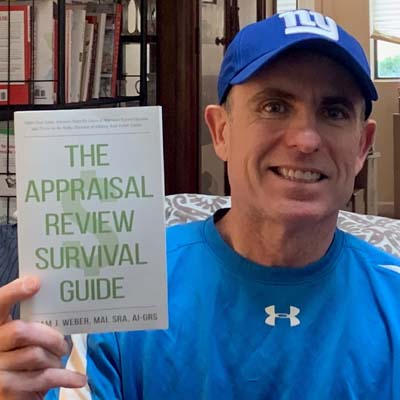 As soon as I heard about Mike's shooks, I knew it was the perfect type of book for me to write as my first book. I appreciate the fact that Mike has made the authoring process simple and fast, and I know my prospective clients appreciate the quick read.
I have used my first shook as the primary marketing piece for my 'Dream 100' list of clients and have just finished my second shook on easy meditation tips for business owners.
—Adam Weber 
I have been thinking and "fixin" to write a book for years and every time I sat down to write I went blank. I have been in the tax business for over 35 years so I have some knowledge that I knew that would be of interest to share, however I had no clue how to get started.
Have you ever heard that the teacher appears when the student is ready? Well I must have been ready because Mike Capuzzi appeared to teach me that I could do this, write a short book. Working with Mike and the systems he has put together to help me get started and finish up my shook made it very easy. All together it took about 12 weeks from start to finish.
Anybody looking to write a shook should contact Mike, you will be glad you did. Thanks Mike!
—Axel Williams, RTRP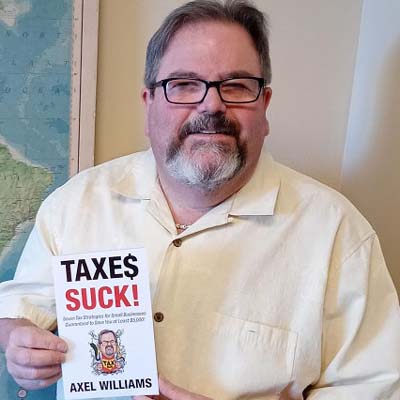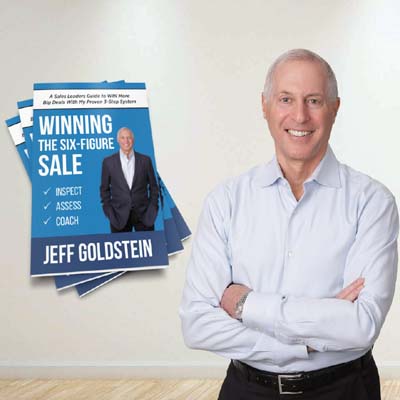 Mike's approach was completely aligned with what I wanted from my book. A short read that positioned what I did and helped me attract readers who I could potentially convert into consulting customers. As I started working with Mike, it was clear he would be my book publishing Sherpa. My guide to taking me up what felt like this huge mountain and make sure I didn't take any wrong turns or fall off the cliff.
If you're looking to leverage a short helpful book in your business, I can't recommend Mike enough. He'll help you get where you want to go, much faster than you could all on your own!
—Jeff Goldstein
I was planning to write a book for a long time. Once I saw Mike's offer, I thought he is the right partner.
He provided a clear structure, valuable coaching sessions, tips, and tricks, and most importantly managed the release of e-book and paperback editions.
Thank you, Mike.
—Norbert Farkas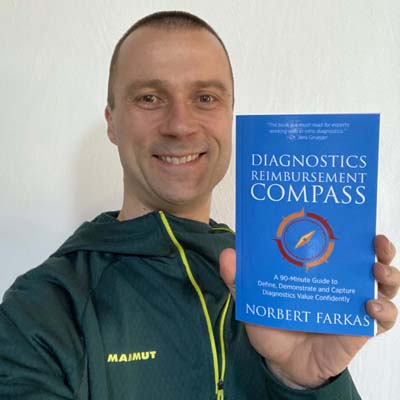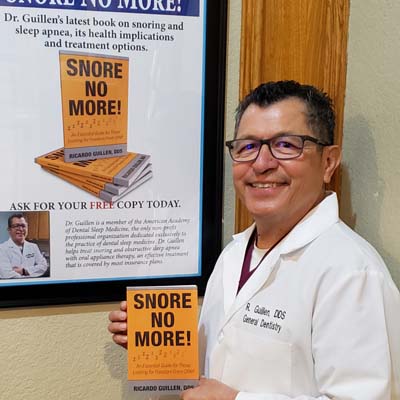 I had contemplated on publishing a book for about 17 years and never had the drive to make this happen until I talked to Mike. The BEST decision I made. Mike made it relatively simple to write, author, and publish my book.
His impeccable desire to help me achieve my goal of becoming an author is priceless. He provided the roadmap and all I had to do was follow it and arrive at my destination.
If you are wanting to become an author, you don't need to look any
further. Mike is the answer. My sincere appreciation to Mike for his guidance and care.
—Dr. Ricardo Guillen
Mike helped us tremendously in creating our first shook. The process was straightforward and Mike is incredibly efficient. He kept us on track and we were able to produce the shook over a few short months.
I Thought This Thing Was Safe is already a hit with potential clients! I would recommend Mike to anyone interested in writing a shook.
—Alison Russell, Esq.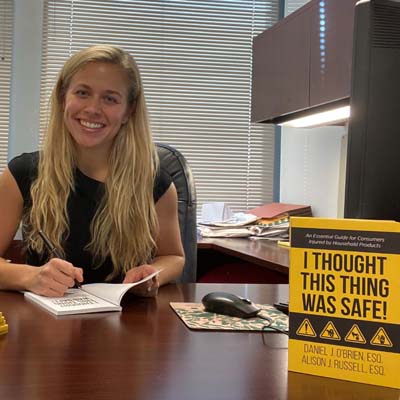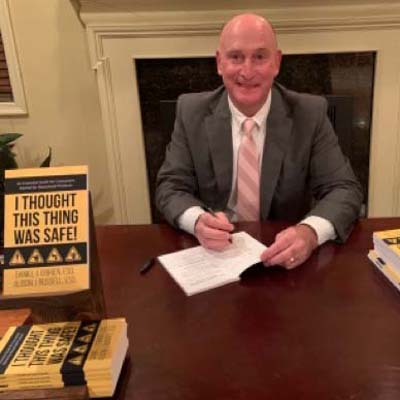 Alison and I had an idea to write a short helpful book about dangerous household products as a way to both expand our products liability practice and to deepen our relationship with the individuals on our "list."
The process of planning, writing and publishing the "shook" could not have been easier. Mike is a really nice guy and a total professional. The response to the book has been overwhelmingly positive. If you want to do something to set yourself apart from the pack, publish a short helpful book.
—Dan O'Brien, Esq.
As a seasoned author, I have self-published 2 electronic books and worked with a third-party publisher for both print and paperback editions. By far the best and easiest experience was consulting Mike Capuzzi and Bite Sized Books.
He coordinated the cover design and formatting and provided clear directions. The process was easy and quick. I love the result and am getting fabulous feedback. Thank you Mike!
—Dr. Nancy Zare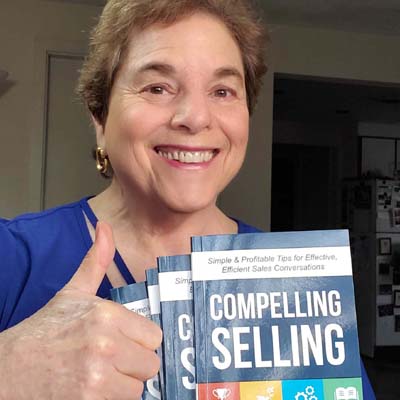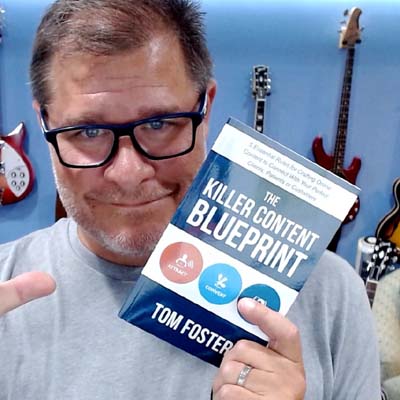 Mike Capuzzi is a marketing legend and iconic in my world. When I heard he was doing these "shooks" I thought it was a brilliant idea and HAD to do one myself, so I did. I will be doing many others. I could not be happier with the results.
But honestly, it was working with Mike and his calm demeanor, his funny wit, and his experience and professionalism all made for an amazing experience for me and my team.
—Tom Foster
Hiring Mike to assist with your book or marketing is akin to hiring a celebrity to attend a fund raiser for a charitable organization; it may cost more than you want, but the benefits will be 10X or higher shortly after you launch or implement his strategies and techniques garnered from 25+ years in the marketing industry.
The up-front cost is well worth it as the back-end payments will ripple through all aspects of your business. Using his proven, and I would say, scientific formulas, my business secured $265,000+ in investor capital in the first 3-days post launch—a 3,397% return on my initial investment.
—Dominic "Slice" Teich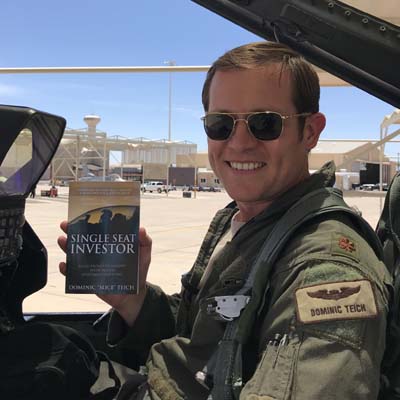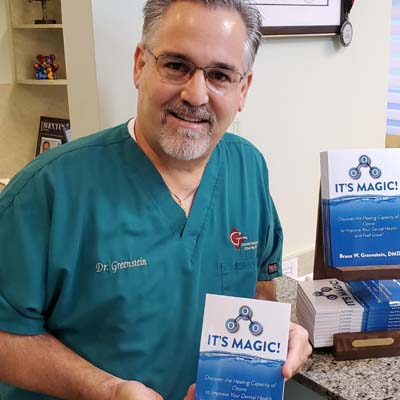 While it's been suggested that someday I might want to consider writing a book on dental subject matter that the public would understand and enjoy reading, it wasn't until I came across a webinar on something called a "shook" that my interest was peaked. A short, helpful book for the public and prospective patients to chew on and get the real honest scoop would have been impossible without the guidance and expertise of Bite-Sized Books leader, Mike Capuzzi.
Multiple phone sessions, emails and an extremely helpful, easy-to-follow series of modules on his website offered all the information I needed to let my own creative juices flow. From the original idea-percolating session to cover design to marketing your product and everything in-between, Mike Capuzzi is the MAN - period!
—Bruce W. Greenstein, DMD
If you are a business owner of any kind, I highly recommend that you hire Mike Capuzzi and run through his Main Street Author Program.
My business income doubled within 45 days of my shook being published and I had 78 new students sign up for my online courses. I'm still digging through all the emails I've received because of my shook. Hire Mike, build a shook, listen to his advice. You will not be disappointed.
—Janine Bolon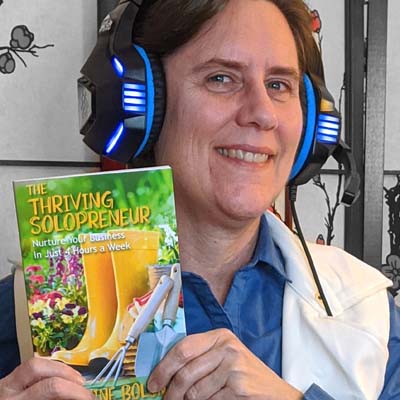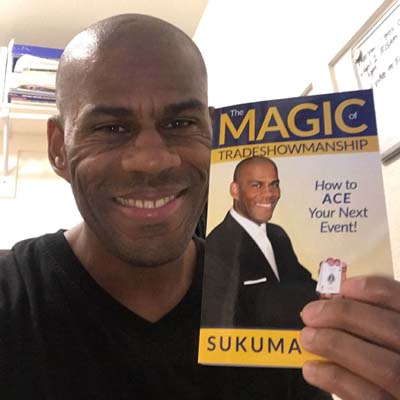 Mike is a very hands on type of guy and really cares about the people he works with. We had calls every week to make sure that I was on the right path during the writing process, and when I went off the path at times, Mike got me right back on track. If I had questions, or needed an idea Mike was one email or phone call away and very responsive. Mike also kept me accountable in getting writing done. After each call, Mike would give me the next action step in what needed to be done for us to keep moving forward.
After working with Mike and completing my book I realized that anybody can write a book, but writing the right type of book that allows you to stand out in your market takes a truly special coach. Mike is that coach for anyone looking to create, not just a book but an authority-building, customer-attraction marketing piece.
—Sukuma Avery
It never occurred to me that I could write a book nor that I had material that would appeal to our dentist target customers.
Thankfully, I first listened to Mike Capuzzi's teaching on the subject of short books and then made the decision to work with him to create one. My co-author and I are glad we did.
Mike guided us (and prodded us) during the entire process. Working with him to create the plan, content and final book was easy and fast. I highly recommend any serious business owner who wants to get a client-attraction book done to work with Mike.
—Doug Brown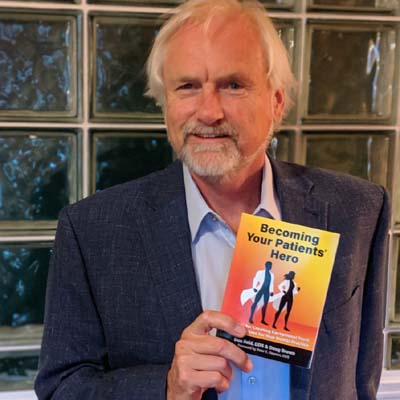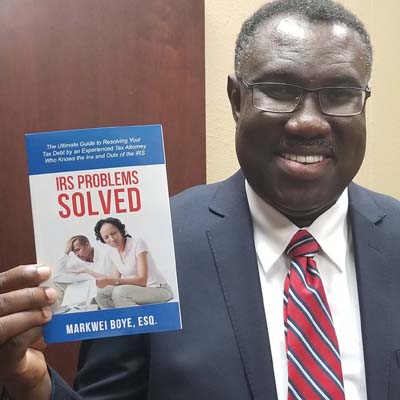 Mike is the best marketing genius hands down. He knows what he is doing when it comes to helping you write your shook. I just published by first shook about a week ago. I can honestly say that I am not a good writer and neither did I envision writing any book. However,
Mike has a system and excellent templates that makes it so easy to follow and within weeks, your shook will be ready. If you want to take your practice to a whole different level and use shook as marketing tool, you cannot afford to do so without Mike.
Thanks Mike. You did your excellent job once again.
—Markwei Boye
I've been a client of Mike's for years, and he has helped me with a number of marketing projects for my practice. When he announced the opportunity to work with him to publish a short book, I immediately said yes because I know his level of professionalism and expertise are top-notch.
Ironically, at the same time as his announcement, another book-publishing expert was trying to get me to work with her, but like I said, as soon as I found out Mike was offering this service, my decision was made.
—Dr. Kevin Flood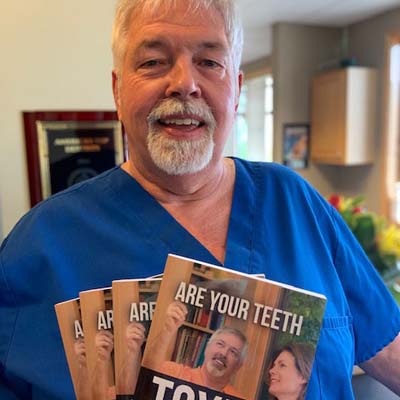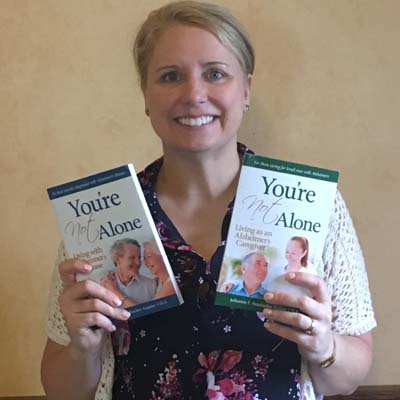 Mike Capuzzi is a man of integrity and exceptional insights and ideas. He also has that special character trait of actually doing what he says he is going to do.
Finding key strategic partners for one's business is one of the surest and safest ways to growing and creating an even more successful business, and you cannot do wrong by partnering and working with Mike Capuzzi.
—Julie Steinbacher, Esq.
Mike was a lot of fun to work with but also very knowledgeable and you know his help not only for the book but also on his marketing expertise really helped me with being able to add some extra elements into marketing of my book as well.
So, it's kind of like a full package deal that Mike brings to the table and I really do appreciate him, and anybody who is thinking about putting a book out for themselves to grow their brand grow their authority then Mike Capuzzi is definitely a guy that you need to work with.
—Matthew Petruso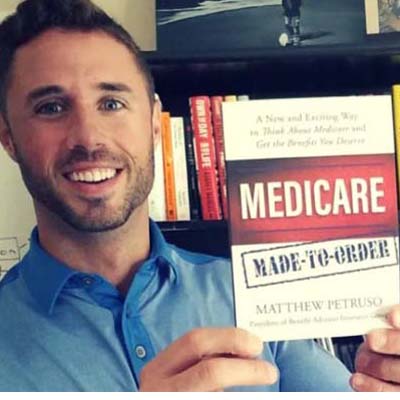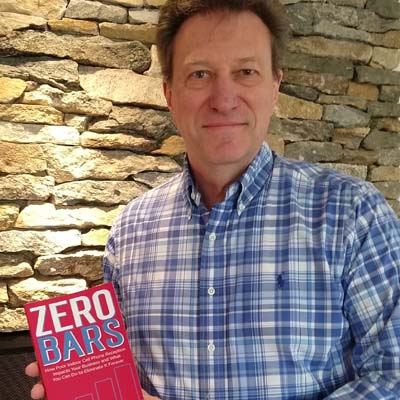 I've known for quite a while that writing a book and using it as a marketing tool would be a great idea. Thus, I first thought about writing my first book several years ago. Unfortunately, I never got to it.
So, when I heard about Mike's Short Book Success course, I signed up immediately. The course lit the fire I needed to get my book started. However, things really moved ahead quickly when I began working directly with Mike.
His guidance, advice and direction allowed me to finish up on schedule and get my book published. It only took a few weeks! I was particularly impressed by the ability of Mike and his team to have my manuscript expertly edited and to create a fantastic cover design. With the completed work ready to go, I had printed copies on my desk just a few days later. Thank you, Mike.
—Bob Von Stein
My relationship with Mike has now crossed the decade mark. Time and again my time and investment returns themselves 10-fold and more.
His knowledge, insights, and marketing mind increase the result of any project we work on together. His urging to push me to author Sleep Better was a long time push from him, I questioned will my customers actually read a 100 page shook about sleep and the mattress buying process beyond my already published and profitable guides?
The answer was YES, YES, and YES! Sleep Better has become our #1 marketing asset and it's all thanks to Mike. Do not wait years, or even months, to take advantage of Mike's services and offerings - the only thing you'll miss out on is establishing yourself as the true authority in your market and of course the increased profits and sales aren't that bad either!
—Jeff Giagnocavo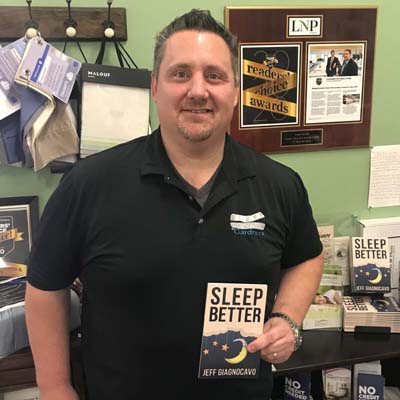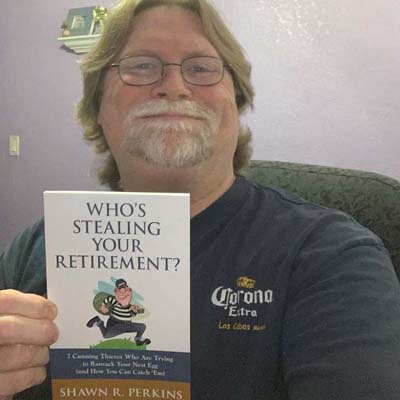 I've wanted to write my own book for some time now, but the task has always seemed so daunting. The first and biggest challenge for me has been figuring out how to get started. The second, but no less important, challenge has been the significant cost in getting a book written and published.
Your Main Street Author Program solved both of those problems. Your system provides an easy-to-follow and clear path to success at a price that doesn't break the bank. I am grateful to you for having paved the way and solving my problem in this area.
—Shawn R. Perkins