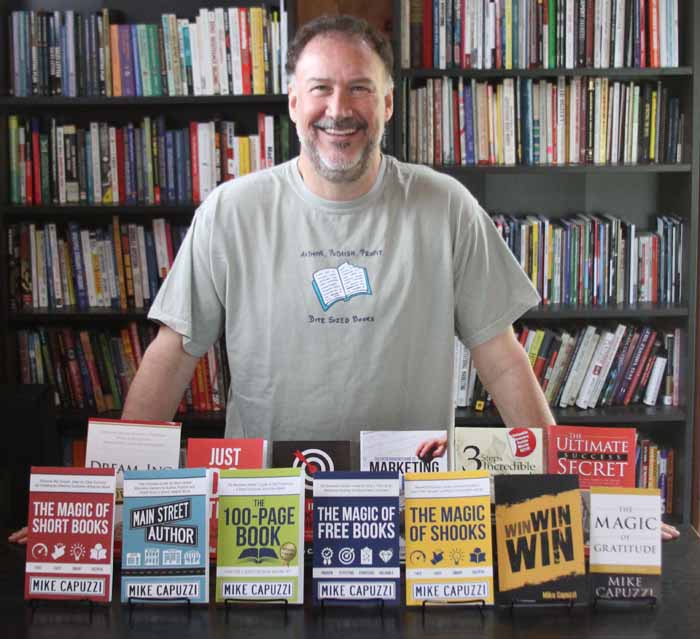 Bite Sized Books is the brainchild of world-renowned marketing strategist and Amazon #1 Best Seller author, Mike Capuzzi, who has been serving his clients since 1998.
Bite Sized Books works with business owners and entrepreneurs to publish our unique brand of short, helpful books—shooks. We are unique and different in three primary ways:
1-Who we serve.
2-What we do.
3-How we do it.
We believe just about any business owner can benefit and profit from having a shook working for them in their business, however there are five "types" of people who make ideal shook authors.
1-Savvy professional service providers, including lawyers, insurance agents, tax professionals, and financial advisors.
2-Forward-thinking healthcare professionals, including dentists, physicians, chiropractors, and therapists.
3-Innovative high-ticket or luxury product/service providers, including retailers and real estate professionals.
4-Coaches and consultants determined to stand out, be different and be recognized as a valued subject matter expert.
5-Time-strapped corporate executives and leaders who have an important message to share with their team or the world.
6-Online business owners and entrepreneurs committed to skyrocketing the visibility of their software, services, and brands.
We enable business owners, like these, to create a powerful short, helpful book in just a few weeks with our proven system.
We only publish short books that can be read in about an hour or two and are written and designed to be a marketing and sales asset. At first glance, this may not seem so unusual or unique, but if you go deeper, you will understand what we do goes way beyond the way most book publishers think.
We don't focus on fiction books.  We don't focus on a variety of nonfiction books. We only create books that are meant to position the author as an expert and promote his or her business as a trusted choice.
The reality is there are a bunch of places where you can make costly mistakes when publishing a book for your business. Considerable time should be given to the content, structure, goals and promotion of your shook, and this cannot be done in an hour or two, or even in a day. At least not in my opinion.
Our Main Street Author Program offers you several straightforward, simple and cost-effective publishing options, and if you have read this far, I am sure one is ideal for you.
When you decide to work with Bite Sized Books, I (Mike Capuzzi) am your primary point of contact, and you will only work directly with me. I do not pass you off to an assistant or inexperienced newbie. Instead, you are working with a successful and experienced fellow business owner, who has been helping clients improve their marketing since 1998. This gives you the peace of mind you deserve when working with a publishing partner.
All of our options include everything you need to go from idea to printed book. And regardless of the option you choose, know that when you work with , in whatever capacity, you benefit from my decades of experience, making sure you don't stall, trip or fumble.
When we work together, you will get the best of me working for you, and you get an all-inclusive and personalized opportunity to get your shook done right and done fast. We will have scheduled phone calls, and you will have direct access to me, as I guide you step-by-step. Before you know it, you will be an author and have a professionally published shook working for you and your business.
SCHEDULE A BRAINSTORMING SESSION WITH MIKE
The first step to creating your first shook is a no-obligation, fact-finding call with Mike Capuzzi, Founder of Bite Sized Books. This one-on-one call will help him understand what your business and what your goals are. 
There is no obligation on your part until you have decided to become a client. I look forward to hearing from you, and more importantly, working together to design one of the most powerful and effective marketing assets you can create for your business.