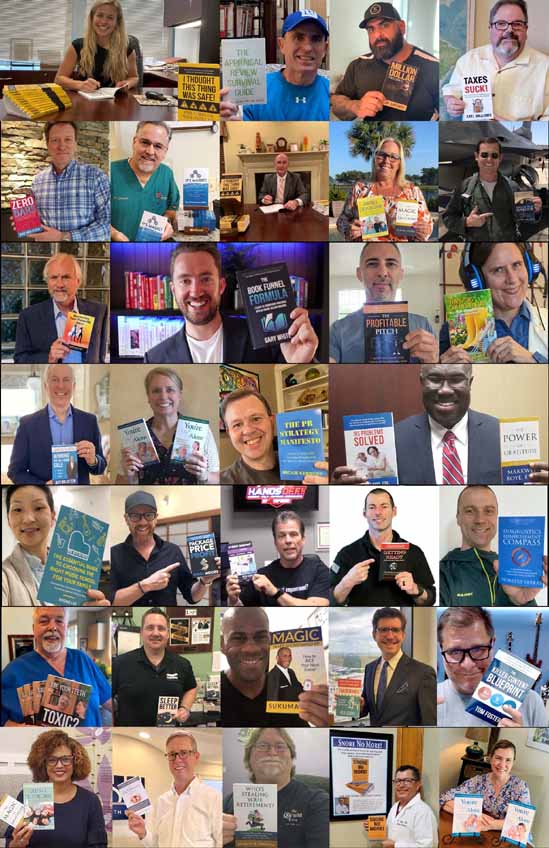 Achieve Maximum Influence & Impact With Your Own Short, Helpful Book!
Bite Sized Books elevates business owners, entrepreneurs, and corporate leaders by publishing impactful, short, helpful books their targeted readers appreciate in as little as eight weeks with a proven, step-by-step system.
Elevate Your Expert Authority, Increase Your Impact, and Build Your Legacy with a Short, Helpful Book
Our short, helpful books (known as shooks™) are very intentional—in the way they look, in their singular focus, how the helpful content is choreographed, and in their ultimate goal—to get readers to take action and become your customer, client, patient, member, or student.
Shooks are faster to create, easier to read, and are designed according to an intentional and proven
direct response marketing formula. This is an important and critical differentiator from all the other types of books out there because direct response books are focused on getting readers to respond (not just read and put on their bookshelf).
The Top 10 Reasons to Publish a Shook!
1. Shooks are faster and easier to create than traditional business books.
2. Shooks are attractive to readers because of their size and length.
3. Shooks are physically easier to read due to their design which means they are more likely to be read.
4. Shooks are faster to read and therefore appreciated by all readers.
5. Shooks are focused on a single topic and do not overwhelm readers.
6. Shooks provide 60-120 minutes of undivided attention to your message, business, and brand.
7. Shooks offer additional, helpful information for readers who want more from you.
8. Shooks offer a clear Next Step action for those readers who want more.
9. Shooks are versatile business assets that can be used online, offline, and in-person.
10. Shooks are valuable business assets that can generate profitable results for years after publishing.
You can read more about these unique benefits of publishing a short, helpful book for you and your business when you read the shook, The Magic of Short Books here.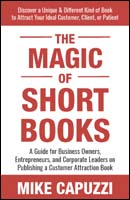 READ THE MAGIC OF SHORT BOOKS FOR FREE!
Mike Capuzzi wrote The Magic of Short Books to help business owners understand the power of short, helpful books. You can get FREE access (plus three valuable bonuses) here:
SCHEDULE A BRAINSTORMING ZOOM WITH BITE SIZED BOOKS FOUNDER, MIKE CAPUZZI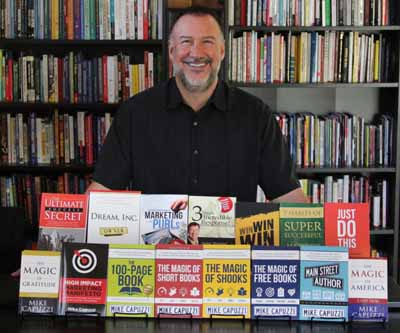 The first step to creating your short, helpful book is a no-obligation, fact-finding meeting with Mike Capuzzi, Founder of Bite Sized Books (click here to visit his main site).
There is no obligation on your part until you have decided to become a client. I look forward to hearing from you, and more importantly, working together to design one of the most powerful and effective marketing assets you can create for your business.