Click to Here a Message From Alex Sanfilippo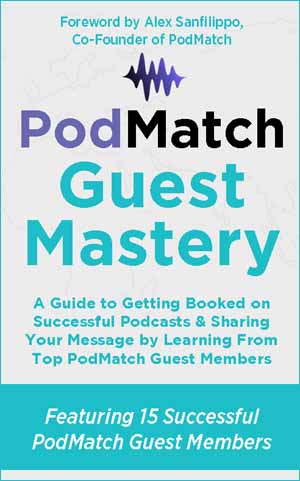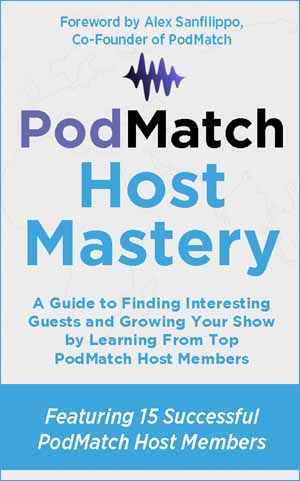 An Exclusive & Private Invitation from Alex Sanfilippo, Co-Founder of PodMatch and Mike Capuzzi, PodMatch Hybrid Member and Founder of Bite Sized Books

Dear Fellow PodMatch Member,
Alex and I have been working on something very cool for the past few months and we are now ready to find a select group of the most successful PodMatch members and invite them to be a Contributing Author in one (or both) new books we are publishing to help new PodMatch members effectively use this awesome podcast interview matching platform.
Introducing the PodMatch Mastery Book Series!
PodMatch Guest Mastery: A Guide to Getting Booked on Successful Podcasts & Sharing Your Message by Learning From Top PodMatch Guest Members will help all PodMatch Guest members use the platform more effectively to find ideal shows to share their message.
Podcast Host Mastery: A Guide to Finding Interesting Guests and Growing Your Show by Learning From Successful PodMatch Host Members will help all PodMatch Host members use the platform to find great guests for their show.
Besides being helpful to others PodMatch members, each book represents a powerful way to position you, your business and if you are a host, your show!
If you are a PodMatch Guest Member, this is an amazing opportunity to share your "best practices" on how you use PodMatch to get on others' podcasts. You will be one of 15 hand-picked members who represent the "best of the best" in the PodMatch Guest member community and as a Contributing Author you will get to promote your podcast guest profile in this book.
If you are a PodMatch Host Member, this is a profitable way to not only share your best practices on how you use PodMatch to find interesting guests, but also to promote your show via the book.
You Will Be in Great Company!
Alex and I are going to be selective about who we invite to participate, and this opportunity is not available to all PodMatch members. We want the best of the best of PodMatch, which is why we are limiting this invitation to only a select group of PodMatch Elite and Premium members.
Being one of the select few authors in the book positions you in a unique way and one that you can leverage for years to come!
If you have never published a book before, this is a great way to begin your author journey and if you are an experienced book author, this is yet another way to get in front of others.
5 Ways All Contributing Authors Will Be Featured
1-Your headshot and name on back cover.
2-Your profile, optional new photo and contact information on your Contributing Author Profile Page.
3-Your answers to the chapter questions.
4-Optional reader gift offer with link to your page.
5-Your personal PodMatch Profile link listed in Bonus Resources section.
5 Ways to Profit By Being a Contributing Author
Once published in October 2022, all Contributing Authors will benefit from these five profit boosters:
1-Both books will be available in paperback and Kindle format on Amazon.com which means you will benefit from the powerful search engine that Amazon is. 
2-All Contributing Authors will get access to a digital "Flip" version they can use in their own business.
3-Alex will be offering these books to all new PodMatch members and by being just one of the exclusive Contributing Authors these members will not only learn from you, but also learn about you!
4-As part of growing PodMatch, Alex speaks at a lot of events, and you can be sure he will be sharing the book at them. This means more exposure for you!
5-Being part of a book with other smart and successful Contributing Authors means you will benefit from the "exponential" marketing of each of their efforts when they share the book with their followers. Again, this means more exposure for you and/or your podcast!
We have a proven system to make your participation fast and easy. Once you join us, there are only three things you need to do:
Send us your high-resolution headshot photo or show logo (for hosts).

Answer 3-4 questions about you, your business, your show (for hosts) and contact information.

Answer 8 questions (with prompts) that will guide you through writing your chapter (which essentially means answering the questions).
Realistically, this should only take you an hour or so of prep time (to consider the questions we will be asking you) and an hour or so to write out your answers.
It is important that you know that you we plan on launching this book in early October 2022, which means we will need all your content no later than September 9, 2022.
Typically, participation in similar types of "compilation books" can have participation fees that range from $1,000 and more, but Alex and I want to make this a no-brainer for the group that we invite to participate.
The fee to participate was calculated by taking all the hard costs to produce and publish the book and dividing it by 15 author slots (essentially as if it were crowdfunded). Due to the multi-author nature of a compilation book like this, there are additional costs to factor in versus a single-author, self-published book. Here is the cost breakdown for each book:
| Task | Cost |
| --- | --- |
| Project management & author coordination | $1,000 |
| Marketing | $500 |
| Copyediting | $1,000 |
| Cover design | $500 |
| Interior design | $750 |
| Kindle programming | $500 |
| Amazon book setup | $300 |
| Total production & publishing cost: | $4,550 |
The total cost to coordinate, design and publish each book is approximately $4,550. Dividing this total cost by 15 authors = $303 per author.
Therefore the Contributing Author fee to participate in either book is only a single payment of $299! If you want to be in both books the total fee is $299 x 2 ($598).
For less than $300, you will be able to help other PodMatch members and get some great exposure in this unique opportunity. And if you are like me and believe that Alex and the PodMatch brand have some great things in store for the future, I think you will agree that aligning yourself with PodMatch makes a lot of sense!
There are no other expenses (unless you want to buy paperback copies in bulk).
There Are Only 15 Author Slots for Each Book. Don't Miss Out!
If you see the value with what I am sharing here, do not put this off. The very nature of this opportunity means that once each book hits its Contributing Author limit, it will be closed to others.
Our expectation is to have all the Contributing Author slots filled by early August.
Plus, when you join us determines where in the sequence of chapters and back cover photos your chapter goes.
Choose which book you want to participate in.
NOTE: In order to participate in the Guest book, you must be a PodMatch Podcast Guest member and if you want to participate in the Host book, you must be a PodMatch Podcast Host member.  If you are a PodMatch hybrid member, you have the option of being in both books!
On behalf of Alex and myself, thank you for time and we hope to see you as a Contributing Author!